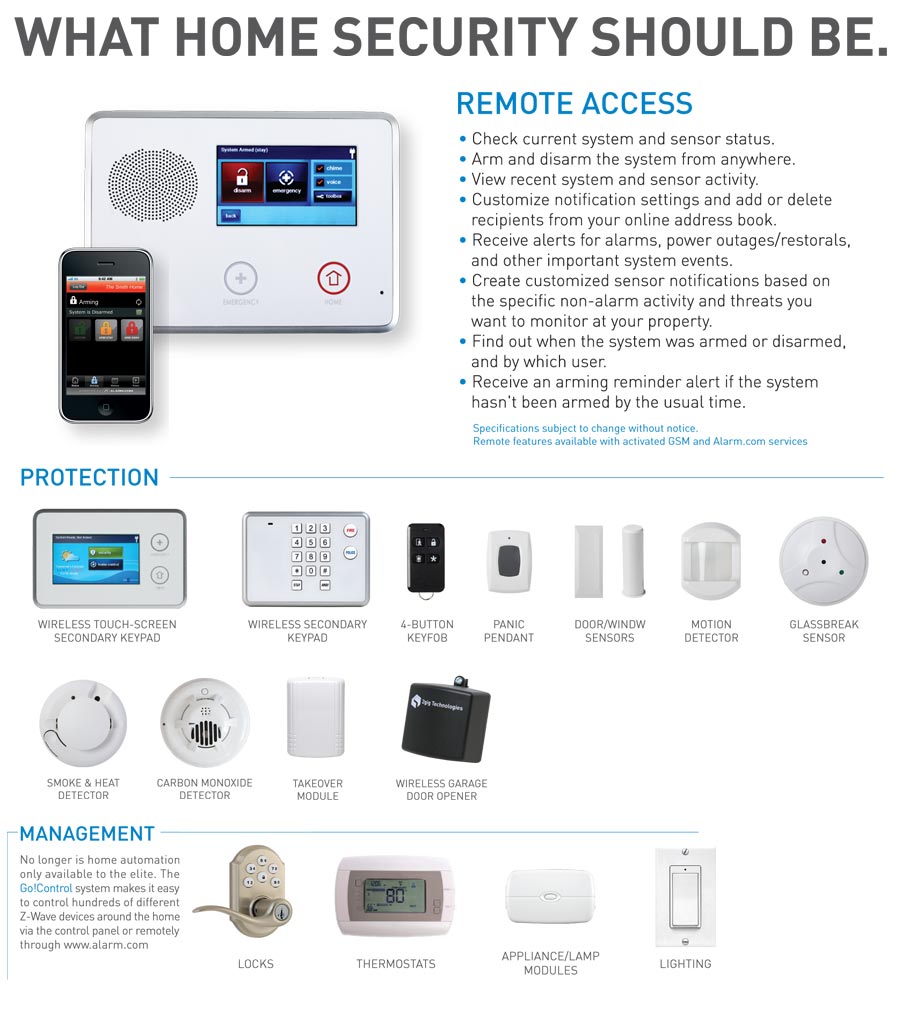 Better Security Starts Here:
Advanced home monitoring technology

Tamper resistant technology

No phone line or Internet connection required

monitor your property even when the system is disarmed

stay aware with email and text notifications

control your home via the web or mobile app
Your home security system should be anything but threatening. We are proud to install the finest security systems on the market today. The Simon Integration system incorporates wireless security, home automation, video control, remote locks, cellular two-way voice communication and more. These products have been designed with the consumer in mind and have won top honors at the Electronics Security Expo 2 years and running.

It's not just security anymore.
The Simon Integration family of products secures your home or office but also allows you the flexibility of adding automation controls, smart HVAC / Thermostat Control, Remote door lock/unlock, IP Camera viewing, lighting control, Z-wave compatibility, and more. See below for more services and how each can work for you and your family to lower electric bills, install peace of mind, and secure and protect what is most important to you.
emPower:
With Simon Integration energy management services you can remotely adjust your lights and thermostats and set energy saving Smart Schedules to fit your lifestyle. Simon Integration can help you stop wasting energy and start taking control of your energy bills.
Benefits:
Reduce energy usage without compromising your lifestyle

Energy saving templates help reduce your energy bills

Customized light and thermostat schedules adjust to your lifestyle.

Mobile apps let you remotely control your lights and thermostats

text and email alerts let you know when your thermostat settings change
Automatic Door Lock Control
Simon Integration's solutions offer remote access and control of your door lock. Don't leave a key under the mat anymore, now you can give out unique codes to whoever needs access or simply unlock the door right from your Smartphone anytime.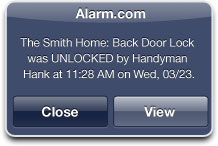 Stay in charge
Simon Integration can send you immediate alerts via text or email to notify you when someone unlocks the door. You'll know who entered your home and when. Plus, using Simon Integration's home automation solutions, you can have the doors lock whenever the security system is armed or unlock when the system is disarmed.
Greater convenience and control
The integration of door locks with your Simon Integration security system lets you set up rules based on your security and control needs:
Set your security system to disarm automatically if the main door is unlocked between 5:30 pm and 8:30 pm on weekdays.

If you know when a guest or the contractor will be stopping by, set up unique door lock codes for them. You can have the security system disarm only if those specific codes are used to unlock a door.

For added peace of mind, lock one door and have that action trigger the rest of the door locks in your home to lock simultaneously.
* Note: Remote locking functionality varies by lock.
The end of key copies
Stop leaving the key under the doormat. Use Simon Integration's door lock security features to:
Set up unique user codes.

Know exactly who is accessing your property and when a visitor arrives and leaves.

Avoid giving out keys to all the people who are authorized to enter your property, like your dog walker, neighbor or babysitter.

Stop worrying about getting the keys back later.

Stop turning back to make sure the doors are locked.
Video Monitoring:
Simon Integration's video monitoring solutions let you see what's going on at your property, even when you're not there. Now, you can see who's pulling in the driveway, get a video alert when someone comes through the front door or just check in to see how your favorite pet is doing.
Benefits:
Watch live video on your smartphone, tablet or computer
View recorded clips to catch up on what you missed
Schedule recordings when there is motion, a door opens, or the alarm goes off.
Get video alerts instantly sent to you via text or email